Advertising Specialty Products and Promotional Products
Marketplace Promotions offers, as a Specialty Advertising Company and Distributor, a wide variety of promotional products, promotional gifts, logo wear, corporate giveaways, custom imprinting and custom logo apparel, employee recognition products, school promotions, promotional merchandise, promotional logo digitizing,embroidery and screen printing. Promotional products are ideally suited for everyday use by your target audience. The right product will be used often enough to remind a client of your service or product. Studies have indicated only about 3% of an average target audience needs a given product at any given moment. This means 97% of the time they aren't actively seeking your product or service. That's a lot of time for your competitor or competitors to sneak in and influence your customers' buying decision.
Don't let that happen by keeping your name as the first one anyone thinks of when they need your category of service or product. Don't just compete for business, win it! Let Marketplace Promotions help build an effective array of promotional products to ensure your business grows and prospers in the future.
We, at Marketplace Promotions, located in North Georgia and servicing our clients with the highest level of customer service and the widest range of promotional products. We offer over 1 million promotional products to help you build your business. In a tough economy, it's important to stick in your prospects' and customers' minds. You can't afford to pass up a potential sale or lose a sale from an existing client. This is the key function of promotional products... Keeping your name in front of your customers..we can help you do that!!! Call us now, don't wait.. Please don't forget to check out all the other links we have posted on our links page that will take you directly to other companies that we would like to recommed to you. Thanks for visiting us and them... Click on the "LINKS" button at the top of this page....
Promos and Logos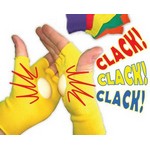 Spirit Clakker™ Gloves
Knit, fingerless gloves with a hard plastic disc in the palm of each hand that make a distinctive clacking noise when clapped together.
$2.17
Signature Showrooms